Best Lingerie in the Game: How Did Valentina Voight Do It?
Feb 17, 2023
How did Voight by Valentina get to where it is now?
Starting her business with only $500 and during a pandemic, Voight by Valentina has become a multimillionaire company within a crazy short amount of time.
But what makes her brand different from everyone else?
Who is Valentina Voight?
If you are new here, you may be wondering… who is Valentina Voight?
Valentina Voight is a 25 year old Colombian fashion designer based in Miami. Valentina attended a vocational school in New Jersey where she was studying fashion design for 4 years.
Instead of pursuing fashion design after graduating, she decided to attend University of Tampa and majored in computer science.
Voight ended up dropping out after 2 years because she wanted to fulfill her passion in creating.
From taking business, art, coding, and communication classes, it had shaped her knowledge and prepared her for her business.
History of Voight
Over the course of 3 years, Valentina has built a dedicated following among consumers, showcased phenomenal marketing tactics, outsold within seconds during every product launch and successfully turned her aspirations into tangible achievements!
The creatives behind Voight are Valentina Voight, Nat Hernandez and Karl Darcy. Valentina's first product launch was her portrait calendars. It only made sense since Valentina wanted to model.
She then started selling her signature accessory, which were hoop earrings in June of 2019. Fast forward to 7 months later the birth of Valentina Voight's 'v-kinis' was born.
Valentina mentioned, "Lingerie has always been the goal". In January of 2021, Voight's first set of lingerie 'Forbidden Fruit' dropped.
Since then her community has been growing at a rapid rate. The girls who ride for Valentina and her brand are known as 'Voight girls'.
Although expanding ranges of size is a challenging task for small businesses, Valentina currently offers XS to 3x and is gradually working towards expanding it even more.
Her product line expanded to selling sweaters, dresses, shorts, accessories, planners, technology, lingerie and even sex toys.
Additionally, Valentina has plans to expand her product line to include gaming accessories, as she believes there is a gap in the market since the industry is primarily marketed towards men.
Voight by Valentina's Brand Marketing
Voight's marketing has always been top notch from start to finish and it keeps getting better every. single. launch.
But what is the secret behind her consistently successful launches? Well let's take a deep dive into the Voight world.
Creative Branding
Voight's expertise lies in creative branding, particularly in her ability to craft distinct personalities for her product launches and campaigns.
This talent is displayed in her first collection, "Made in Hell," which featured a diverse range of capsules from swimwear and lingerie to sweaters, all inspired by her controversial 'made in hell' tattoo.
Despite the controversy over her tattoo, Voight disregarded it and took it as an opportunity to launch a product. In August 2020, Voight launched her first "Varbie" v-kinis, an exciting collection that seamlessly blends the world of Barbie with Voight's own unique style.
From stunning digital campaigns to eye-catching product shots, the collection truly captures the essence of Barbie.
However, this is just one example of Voight's outstanding work. She consistently goes above and beyond with each campaign, as seen in her other collections like "Forbidden Fruit," "Rich Bitch Pussy," "Sunset Swim," "Bon Bon", "Made in Heaven," "Voight World Tech," and "Heartbreaker".
Some campaign shoots even took place in destinations like Italy, Greece, Joshua Tree, and Colombia.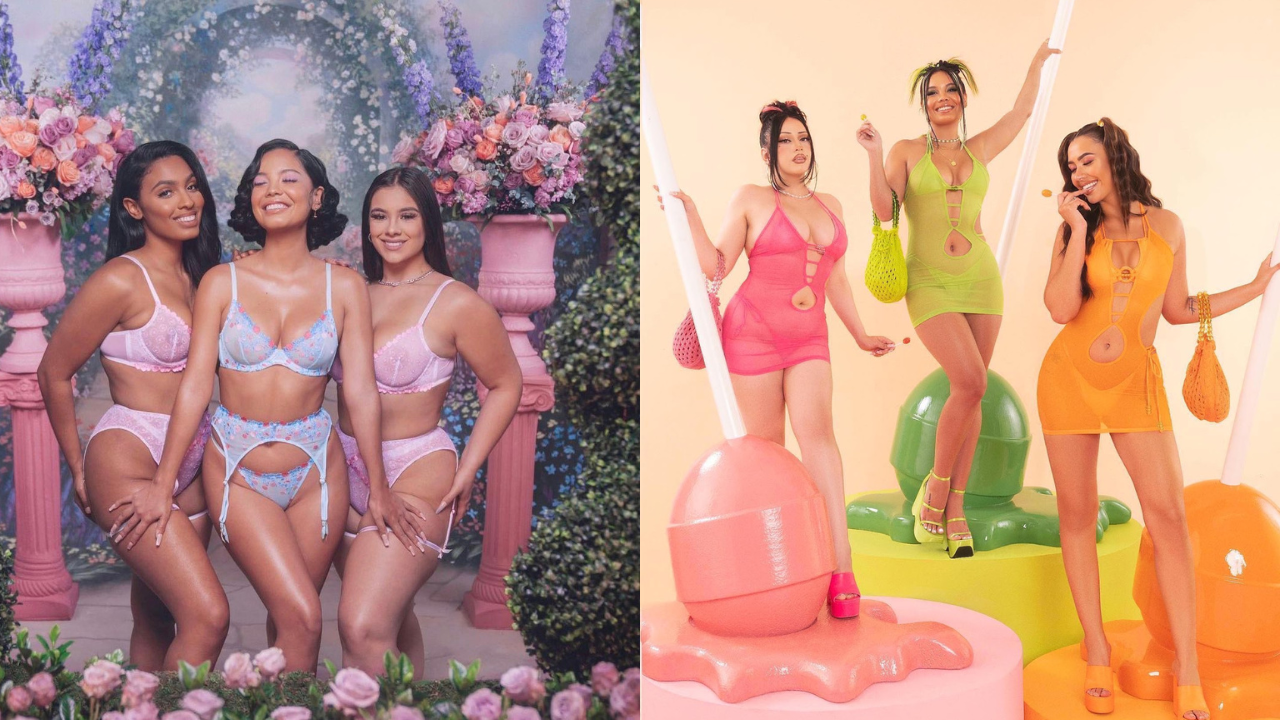 Now, let's dive into packaging. Voight's packaging is just as impressive as her products. Her attention to detail is evident in the thoughtful and cohesive packaging designs that complement each collection.
For example, her "Forbidden Fruit" collection features fruit basket packaging, while her "Bon Bon" collection showcases candy wrapped boxes.
The "Heartbreaker" collection, on the other hand, comes with cleverly designed broken heart packaging that is sure to catch the eye.
These unique and creative packaging designs add an extra layer of appeal to her products, making them even more irresistible to customers.
To maintain consistency across all platforms, Voight ensures that her website reflects the same branding and messaging as her campaigns.
Her commitment to delivering a cohesive brand experience is evident not only in her campaigns but also in her website design.
This dedication to consistency is exemplified in her recent launch of the second "Heartbreaker" and Valentine's Day collection, as depicted in the accompanying photo.
The Power of Social Media & Personalized Approach
Voight's primary approach to marketing involves leveraging social media, particularly focusing on Instagram and Twitter.
Valentina already has a strong presence and loyal community on Twitter, which makes it the perfect platform to promote her products. She aims to generate excitement about her products by talking about them and revealing them one by one a week before their official launch date.
This strategy keeps her audience engaged and eagerly anticipating the release of her products.
By maintaining her active social presence on social media and implementing a roll-out launch strategy, Voight is able to maintain and increase their brand awareness.
Valentina also excels when it comes to engaging with her followers by reposting photos of her customers wearing her products and hyping them up.
This personalized approach creates a sense of community and fosters a strong connection between the brand and its consumer, making them feel valued and appreciated.
Additionally, many of her customers have become loyal to the brand through positive word of mouth recommendations.
Features and Accomplishments
Now that you have an insight of how Valentina and her team are marketing geniuses, let's take a look at the achievements she has accomplished.
Despite only launching her brand 3 years ago, she consistently sells out within seconds and was featured on Playboy, Complex and Hypebae.
You heard that right! After a year and a half of being in the game, Playboy featured Valentina Voight in an article highlighting the accomplishments she's made and what she plans to do in the industry.
7 months later, Complex interviewed Valentina giving us an inside scoop of her warehouse and how she built her company from the ground up.
During the Complex interview, Valentina revealed that she reinvested her profits back into her business during the first year. She did so because she recognized that many businesses fail after spending their profits too quickly.
Furthermore, Voight has also been seen on popular content creators and celebrities like Kali Uchis, Alyssa Silos, and many more.
To say proud of Valentina Voight and her team is truly an understatement. We hope to see Valentina continue to thrive and become more successful over the years.
✍️ Written by Loan Nguyen
Join 5K Women in Marketing
Women in Marketing LinkedIn Group
A private community where young women in marketing network, collaborate, and support each other.
JOIN LINKEDIN GROUP